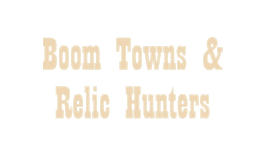 1:14am 08-05-2016

with so many ghost towns are the ghost still haunting the haunted towns because I sure would like to know very much. from Wendy Sells
2:14pm 04-19-2016

I have some old correspondence from Hollywood CA dating from 1926 for a person named Pearl Ferguson. The subject is about writing. Trying to find out if their are family members or historical societies who may be interested. Please contact me at the e-mail above. Thank you,
Stephanie Rouchi
Spokane WA
9:56am 04-08-2016

with a lot of Ghost towns there should be a lot of information about a lot of Ghost towns in different ghost Towns in all of the U.S.A because there is a lot of ghost towns should have a list of different towns that have been deserted to were people have been going to all of the towns to search for Haunted Towns and Ghost Cementaries in all of the United States and else weare. from Wendy Sells
6:06am 03-06-2016

Kevin

What have you done to this website. It is ruined!
5:13pm 01-07-2016

As a history buff, this website has been a God send to me in discovering these ghost towns. I have gone to dozens of ghost towns thanks to this site. Many are still intact, others not so much, but that is ok. The only thing I have to say that is not so good, is that I have found squatters in some of these towns. A sign of the times. Also, I have seen activity in some of these places that led me to believe that illegal things were going on. If you see activity in an abandoned building, please play it safe and back away. That being said, thank you for this website. All things considered, I am still having fun exploring!
3:22am 12-06-2015

with of the ghost towns I(WENDY SELLS)would like to know were I can find more of the Ghost Towns because I sure would like to know very much. from Wendy Sells
5:58pm 11-29-2015

with all of the Ghost Towns I sure would like some information about were are all of the other Ghost Towns located at. from Wendy Sells
3:14am 11-27-2015

Ghost Town I(WENDY SELLS) wish all of the Ghost Town people a happy Thanks giving from Wendy Sells
2:53am 11-24-2015

Hi every-one how are you all been doing and I wish every-one a nice thanks-giving as well a nice Merry Christmas as well from Wendy Sells
2:03am 11-22-2015

How is Boomtown been doing now a days because I sure would like to know very much from Wendy Sells
4:21am 11-21-2015

Hi how is every-one at the ghost town areas I(WENDY SELLS)was wondering if there is any other ghost Towns that I can find to check out and see if there is any other Ghost Towns around the earth because I sure would like to know very much. from Wendy Sells
7:14am 09-19-2015

Great book and will be visiting some of these sites.
8:11am 07-26-2015

Hey Jerry, Bobby and I would love to stop by for a visit. Are you still signing at the book store?
7:00pm 07-23-2015

Hi Jerry I went to Bodies in California last week a very cool pace. Hope you well. John
2:28pm 05-09-2015

robin meadows

Looking for eagle county Colorado ...Gilman