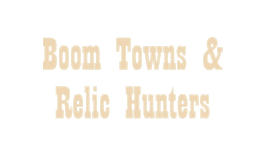 5:58pm 11-29-2015

Wendy Sells

with all of the Ghost Towns I sure would like some information about were are all of the other Ghost Towns located at. from Wendy Sells
3:14am 11-27-2015

Wendy Sells

Ghost Town I(WENDY SELLS) wish all of the Ghost Town people a happy Thanks giving from Wendy Sells
2:53am 11-24-2015

Wendy Sells

Hi every-one how are you all been doing and I wish every-one a nice thanks-giving as well a nice Merry Christmas as well from Wendy Sells
2:03am 11-22-2015

Wendy Sells

How is Boomtown been doing now a days because I sure would like to know very much from Wendy Sells
4:21am 11-21-2015

Wendy Sells

Hi how is every-one at the ghost town areas I(WENDY SELLS)was wondering if there is any other ghost Towns that I can find to check out and see if there is any other Ghost Towns around the earth because I sure would like to know very much. from Wendy Sells
7:14am 09-19-2015

Craig McDonald

Great book and will be visiting some of these sites.
8:11am 07-26-2015

Cherie DeLancey

Hey Jerry, Bobby and I would love to stop by for a visit. Are you still signing at the book store?
7:00pm 07-23-2015

john melkonian

Hi Jerry I went to Bodies in California last week a very cool pace. Hope you well. John
2:28pm 05-09-2015

robin meadows

Looking for eagle county Colorado ...Gilman
11:41am 03-21-2015

Kimberly

Hello, I am curious to know if you can help me find some information on a mine that my GG Grandfather and his son in-law had in 1903. Their company was called the "Prize Mining Co." out of Seattle. My GG Grandfather (William Fishburn) as a follower of John Brown-the Abolitionist prior to the start of the Civil War. And his son in-law was Hermon/Herman Dunham who was a Mining Engineer who graduated from the Colorado School of Mines in the 1880/90's.
And information you can provide (if possible) would be beyond appreciated.
Thank you so kindly,
Kimberly
12:42am 02-18-2015

Dr Joseph Michael

http://www.facebook.com/doctorjosephmichael
12:41am 02-18-2015

Dr Joseph Michael

http://www.facebook.com/doctorjosephmichael
1:03pm 02-01-2015

Rick

I just picked up your book also! I'll definitely be adding these places to my own blog about the Pacific Northwest's Ghost Towns! Keep up the good work!

If you run any tours through these towns, or want to visit some Oregon towns, I'd love to hear from you!
1:52am 08-05-2014

Betsy

Just wanted to let you know I have a few family photos of Desautel, WA (two of them logging pictures, and one of my family's homestead there.) If you're interested, I can scan and send them to you.
Betsy
3:46pm 06-12-2014

Sharmagne

I am the great great granddaughter of Chief Que Que Tas of the San Poil band and his wife Quil Pecha.. Great granddaughter of George Runnels and Skookum Analyx.

Thanks for this informative site.