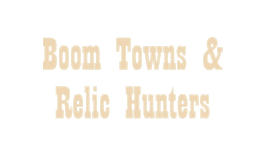 11:01pm 02-22-2013

Byron Peck

Informative web site, having been to Molson several times and fished nearby Lake Sidley. New gold rush with active mine in Chesaw.
10:01am 02-01-2013

Jim Harmon

Am heading down to Costco today to purchase your book, am a amature metal detector, gold panner, rock hunter, and love ghost towns.
6:34pm 12-18-2012

Norman Mallory

Great hostory and wonderful web site , i really enjoyed looking around in your site, you and your team have done an excellent job of locating history and mapping it...
11:28am 08-23-2012

dan davis

very good job! Enjoy reading the history. I plan on making a trip up there to see as many ghost towns as I can. I would like to see more pictures.
6:40pm 06-09-2012

Pamela Steele

I've been researching Chesaw/Molton, Wash., due to family members moving there in the late 1890's from Zanesville, Ohio. They died and are buried there. Would love to know more about them and the area.
2:32pm 06-04-2012

Giuseppe Alvarado

Hi Jerry,
You might remember me from when you and I were on Jury Duty together years ago. With my youngest son turning 10, I'm introducing him to all the great history and stories from Eastern Washington's past. I had your first book for years and I came across it again a few months ago and had it sitting on my coffee table. Today I decided to pick it up and read it, and I checked out your website again. Congratulations on your new book and DVD. I plan to buy both!

I hope that we can meet again someday. I live in Seattle now, but still own my house in Maple Valley where my ex-wife lives.

Take care! Giuseppe
8:42pm 06-02-2012

David Ellen

Hi Jerry, I enjoyed talking with you and your wife at Costco today.

I love to visit old ghost towns.

I have been to Garnet/Coloma in Montana, and one up in the hills SE of Bonners Ferry Idaho. Not sure if it even had a name. I enjoy finding old Trapper cabins and mining cabins in the woods. It's fun to imagine the dreams and thoughts of the people who built them.
4:30pm 05-18-2012

Jon Campbell

Just got mky copy at Wenatchee Costco. Good read. I want to do the Geocaches you have out there to find. Thanks.
5:57pm 04-29-2012

Rory O

Great site- lots of information and great pictures.
2:49pm 04-29-2012

Jimmy

You have a very informative site. Tons of information I had no idea about. Thanks for sharing this with all of us.